Cranberry Bison Meatballs with Chokecherry BBQ Glaze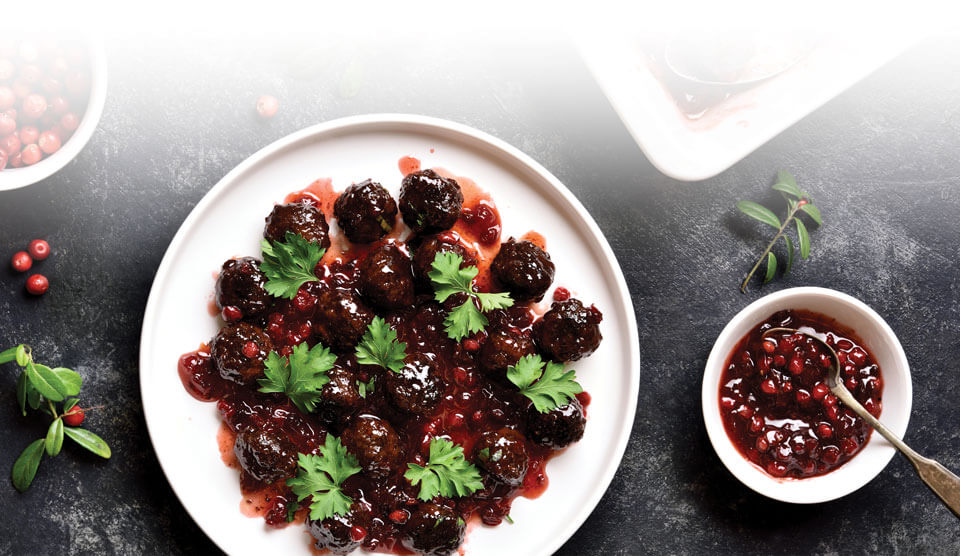 Need an easy appetizer for the big game? This Native-inspired mini meatball recipe features ancestral ingredients and makes for the ultimate party food. These cocktail meatballs are juicy and flavorful, and when tossed with a chokecherry barbecue glaze, your guests won't be able to stop popping! Better yet, this recipe takes just minutes to prepare and all of the ingredients are conveniently available at Mazopiya!
Ingredients
1 bottle Triple Crown Organic BBQ Sauce
3/4 cup Red Lake Nation Wild Chokecherry Jelly
1 pound Northstar ground bison
1/2 teaspoon salt
1 egg
1 teaspoon dried garlic
1 teaspoon dried sage
1 teaspoon fresh rosemary, minced
1/2 teaspoon ground black pepper
1 teaspoon onion powder
1/4 cup Parmesan cheese (dairy-free optional)
1/2 cup panko breadcrumbs (gluten-free optional)
4 tablespoons dried cranberries, minced
Directions
Add barbecue sauce and chokecherry jelly to a medium pot or slow cooker and stir to combine. Keep on low to medium heat until meatballs are ready.
Preheat oven to 450° F. Blend the bison, egg, and all dry ingredients together in large bowl. Roll into 1-inch balls.
Bake meatballs on a baking sheet for 10-15 minutes or until firm and cooked to internal temperature of 160° F.
Add meatballs to barbecue sauce in the pot or slow cooker and stir. Makes 24 mini meatballs. Enjoy!
Recipe courtesy of Carla Cohen