Protecting Artifacts on Display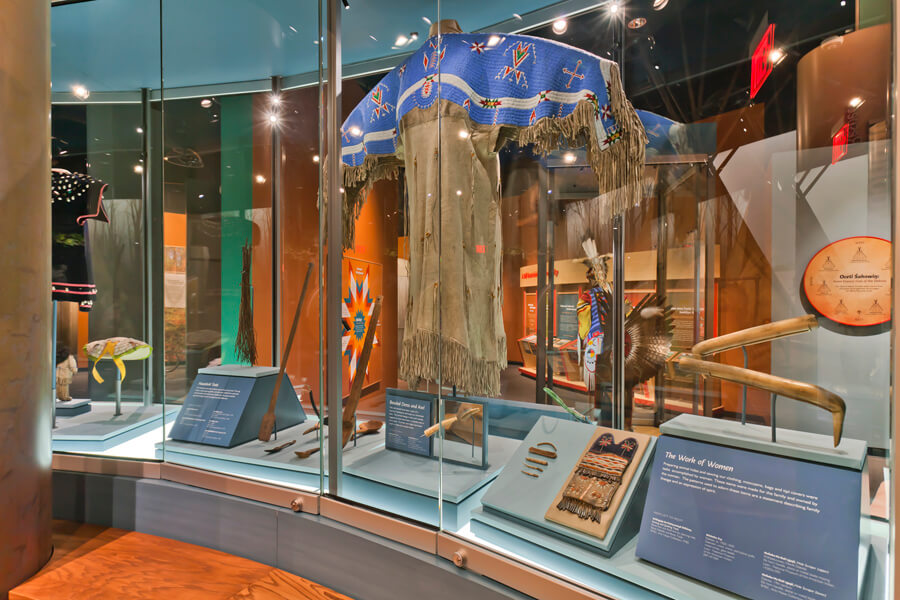 How an object is displayed in an exhibit can make all the difference, but is something that's often overlooked by visitors. If an object isn't carefully displayed, meaningful stories may be masked, or even worse, the artifact could become damaged. At Hoċokata Ṫi, staff put special attention on how objects are displayed in the Mdewakanton: Dwellers of the Spirit Lake exhibit to ensure visitors can learn from them for years to come.
Display is inherently harmful to an object because gallery conditions often do not mirror collections storage in terms of light, temperature, and humidity. All three are consistently monitored by SMSC Collections staff to maintain an environment that promotes long-term care.
Curators use special techniques to display objects, while keeping them safe. Mirrors are often used to show other sides of objects and customized mounts are commissioned to blend in with objects. Padding, rare-earth magnets, and gravity are all used to help seamlessly display objects.
Balancing design, collections care, and the visitor experience help exhibit designers and curators share an artifact's story. Next time you're at a museum or Hoċokata Ṫi's public exhibit, Mdewakanton: Dwellers of the Spirit Lake, look at how an object is displayed to help understand how an object shares its story.